The Boma Wellness Club is a 12-week training module designed to help high school students develop healthy habits and make informed choices about their health. The program covers various topics, including nutrition, exercise, stress management, and sleep hygiene.
Upon completing the 12-week program, students who have met the requirements graduate from the Boma Wellness Club. To graduate, students must complete the whole 12-week module and participate in a community service project. For instance, Alliance Boys High School chose to volunteer at a local children's home on their graduation day.
The community service project offers students the chance to give back to their community and share the healthy habits they have learned with others. Alliance High School students opted to volunteer at a children's home because they wanted to help children who might not have the same opportunities to learn about healthy living as they did.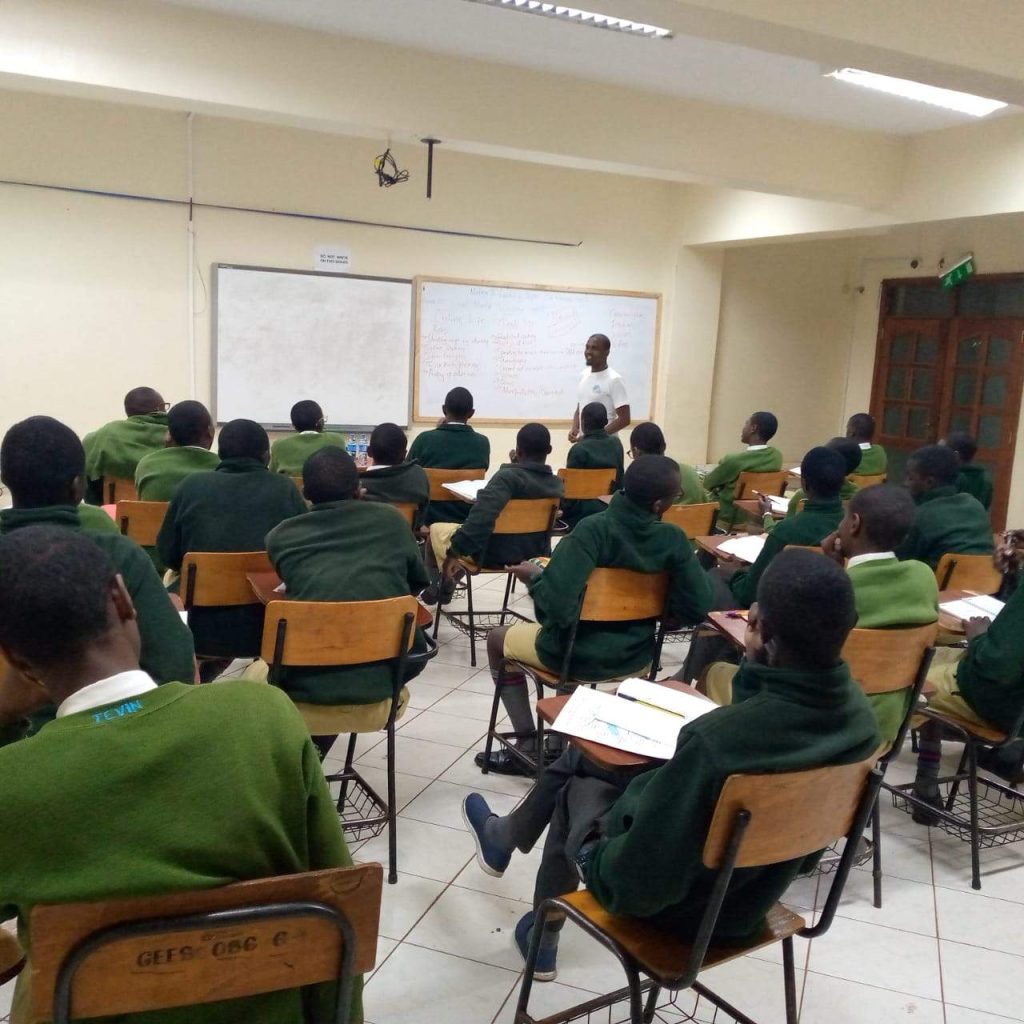 WHY HIGH SCHOOLS?
The school setting is a well-established institution that can be used to address the promotion, prevention, and care of youth mental health. Specifically, secondary schools provide an ideal environment to embed mental health literacy programs for students. Boma Wellness Club programs can leverage the secondary school's pre-existing platform of after-school clubs to educate students on mental health awareness and literacy. In addition to psychoeducation, these groups offer a source of empathy and emotional support for youth between the ages of 13 and 20 years. Rather than being passive recipients of mental health information from teachers in a classroom setting, peer groups allow students to share and support one another in a relaxed and safe space with their peers. While groups are student-led, trained facilitators (not affiliated with the school) will be present to provide accurate information on adolescent development and mental health issues.
Objectives of Wellness Clubs:
Raise awareness of positive mental health among secondary school students and help to demystify it.
Provide an efficient communication channel between students and the administration.
Train peer mental health advocates in secondary schools.
                                               Boma Curriculum. 
The curriculum provides a platform to discuss topics that commonly affect adolescents, such as identity formation, navigating social media, peer pressure, relationships, and academic pressure. Trained facilitators will implement the curriculum and support student leaders as they facilitate wellness clubs.
The 12-week curriculum consists of weekly, one-hour groups that run after school. Each group consists of 15-30 students with two student leaders facilitating the group. Clubs utilize a peer support-group model with student club members. Each week, warm-ups/icebreakers, group discussions, elements of psychoeducation, and rotating interactive activities encouraging creative and visual arts, role plays, and skits are included.
Expected project results.
Upon completion of the Wellness Club project, data from the pre- and post-baseline surveys will be analyzed to determine if there has been improvement across the following areas:
Increased willingness to seek mental health services
Adolescents are more likely than adults to show significant change and greater responsiveness in their beliefs and attitudes in response to educational interventions. By the end of the pilot year, we expect to see an increase in students researching mental health issues online and accessing counseling services. We will capture this information in our monthly reports and through our pre- and post-baseline survey.
Improved resilience due to improved mental health literacy.
Mental health literacy helps individuals understand their own mental health and work towards improving their wellbeing, leading to an increase in resilience and personal control over mental health. This information will be gathered anecdotally from students, the faculty patron, and the school administration, as well as through self-reported baseline surveys.
Healthier school environment where students develop more empathy and a better understanding of their peers and mental health issues.
Individuals who are better informed about mental health issues tend to be more empathetic due to their care for, interest in, and sympathy toward those with a range of mental illnesses. Our self-reported baseline surveys will examine the link between mental health knowledge/psychoeducation and increased empathy and sympathy towards those experiencing mental health challenges.
Improved communication among students, parents, teachers, and school administration regarding mental health issues.
Wellness Clubs serve as a starting point for important conversations about mental health. The information learned can be shared with peers and family members. Additionally, the program can help identify students who might require professional counseling services. These students can either self-refer or be referred to therapists by teachers and school administrators.
Reduced self-stigma and discrimination in schools that participate in Boma Wellness Clubs.
Many individuals with mental disorders internalize negative stereotypes about their condition, leading to self-stigma. Improving an individual's mental health literacy can aid in reducing stigma by increasing public knowledge of mental health and promoting help-seeking behaviors. We will track changes in perceptions and beliefs about mental health issues through monthly reports and pre- and post-baseline surveys.
Improved social support systems in the participating schools.
Educational programs that target mental health and stigma reduction have resulted in higher self-esteem, better quality of life, and increased social support among adolescents. The Wellness Clubs emphasize the importance of individuals feeling connected to others and sharing a sense of belonging to a group. Identifying with a social group increases self-esteem and self-efficacy, and reduces uncertainty about oneself. We will capture the positive effects of group peer-to-peer social support in monthly reports, as well as in our pre- and post-baseline survey.
The Boma Wellness Club has been effective in helping Alliance High School students improve their mental health. By the end of the 12-week training, students who participated in the program reported significant improvements in their study habits, exercise habits, and sleep quality. They also reported feeling less stressed as a result of the coping strategies they learned, and more confident in their ability to make healthy choices.
Testimonial from a Boma Wellness Club Graduate
"I'm so glad I participated in the Boma Wellness Club. The program taught me so much about healthy living, and it gave me the confidence to make positive changes in my life. I'm also really proud of the community service project that I participated in. It was a great way to give back to my community and help others."
In addition to providing health benefits, the Boma Wellness Club offers students the opportunity to develop leadership skills and give back to their community. Participants have reported increased confidence and responsibility, as well as a sense of purpose.
If you are a high school student interested in learning more about the Boma Wellness Club, please visit the Mental 360 website or contact the program manager for more information.
Benefits of the Boma Wellness Club
The Boma Wellness Club provides several advantages to high school students, including:
Improved health: The program teaches students about healthy eating, exercise, and stress management, which can lead to improvements in their physical and mental health.
Increased confidence: By providing students with the skills and knowledge necessary to make healthy choices, the program can help increase students' confidence in taking care of their health.
Reduced stress: The program teaches relaxation techniques and stress management strategies, which can help students reduce stress and improve their overall well-being.
Increased social support: Through a community of peers and mentors, the program provides students with a supportive environment that can help them stay motivated and on track with their health goals.
Opportunity to give back to the community: The program also allows students to give back to their community and share the healthy habits they have learned with others.
How to Join the Boma Wellness Club
The Boma Wellness Club is open to all high school students. To join the program, visit the program website or contact the program coordinator.
The program is run through in-person training, but a hybrid option is also available depending on your school's arrangements with Mental 360.
Conclusion
The Boma Wellness Club is a valuable resource for high school students interested in improving their health and giving back to their community. The program offers a variety of benefits, including improved health, increased confidence, reduced stress, increased social support, and the opportunity to give back to the community. If you are a high school student interested in learning more about the Boma Wellness Club, please visit the program website or contact the program coordinator.